Interior architecture, Burg Giebichenstein University of Art and Design Halle, 2015
---
DER BAUCONTAINER
LA FOROFFICINA MOBILE
repair café 2.0


---
in cooperation with Sara Bigliardi
"Der Baucontainer" (The construction trailer) / "La Forofficina mobile" is a wheeled educating and organizing platform to renovate and reactivate historical buildings. The scope ranges from specific instructing in crafts to aspects of urban construction and participation.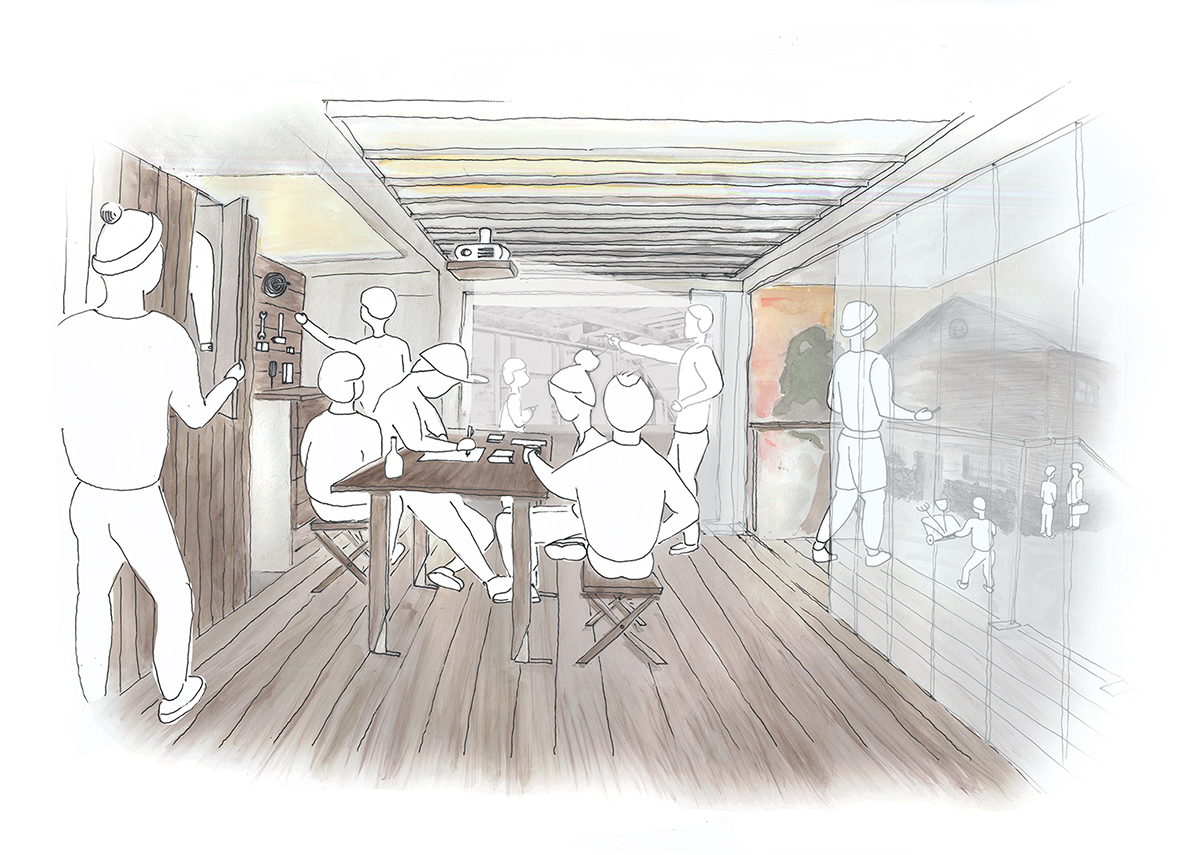 The vehicle is based on a Red Cross emergency unit. The extending construction transforms into a workshop area with workspace, sanitary- and storage sections.

---
The unit in Milan supports the charitable work of the "Associazione Cascine Milano" (already existing organization - learn more at
http://www.associazionecascinemilano.org
). Unoccupied farmhouses are transformed into centers for new participative and social activities. Therefor the rolling academy stands for communication and organization.
In Halle it's all about individual renovation of historical buildings. Interested professionals and laymans are instructed in all aspects of reconstruction by specialized craftsmen, provided by the "Repair Academy". We suggest to offer that service free of charge. This can be enabled through the conceptual idea of an application of trainees' new abilities directly to the renovation process:
Free know-how in exchange for free workforce - WinWin.
---
The retractable expansion is mechanically pulled by a cable winch. It'll be guided on temporary rails, supported by cross-bracings. Affected by that movement, the table lifts and unfolds automatically.



Once finished, container legs can be placed in position to support the expansion. Not in use they can be found in the storage room and moved down on loading ramps.

The container legs also support the both-sided foldable terrace floors.

The terrace roofing can be lifted using a crank. The vertical tension struts are connected to the container through a spring-loaded hinge. Once unfolded they evolve enough power to lift the roofing.

---

The sanitary area stands out unlike the functional designed storage and work space. The surface behind the grid and all taps copy the coachwork's materials and color schemes. The fresh water tubing is located between grid and metal surface. The hand shower is intergrated in the grid. It can be used as an alternative to the rain shower above the grid construction. The sliding door completes the imagination of a full cross-barred room by using the same constructional erection. A mirror on the back of the door can be used from inside the changing room.
An illusion of infinity is been created by the mirroring surfaces attached to the gable ends. A combination of toilet and sink has been created to save space and water. The sink's slop flushes the toilet. The floor has the same erection like the walls. The sealed metal plates underneath the flat grid decrease medial. Thereby slop can run off. The light cord behind the mirroring surfaces creates a healthy illumination in addition to the natural lighting coming down from the skylight.

supervised by Prof. Axel Müller-Schöll and Ass. Nadin Bastian
Interior Architecture, Burg Giebichenstein University of Art and Design Halle, 2015
---