Interior architecture, Burg Giebichenstein - University of Art and Design Halle, 2012


A creative team of six architects and designers invented the "Pixel Hotel" for the austrian city Linz. A Pixel Hotel is a loose group of extraordinary accommodations for tourists. My "Pixel" called Cabinet" is located in the turbine hall of the former "Cröllwitzer Actien-Papermill" and offers all of the comforts of an ordinary hotel room, despite the unusual surrounding.

Before you reach your booked accommodation, you have to pass a big part of the production plant. On the way, you gather many impressions in the halls of the industrial ruin: The concrete walls are covered with graffiti, you have to balance on planks over holes in the floor and walk around rusty machine parts. Through this, it forms a very special impression of a museum. This impression continues as you arrive at the turbine hall where you can hear the brawling of the dam underneath. "Cabinet" picks up that charm and creates an abstract mixture of new and old.
Three important approaches are implemented in this project.Firstly, at only two points will the original condition of the building be disrupted. Secondly, materials, colours and shapes in the installation are based on the surrounding environment. Thirdly, the theme of a museum will run through the installation. The hall becomes the exhibited object, which is staged by the "Cabinet". In this case, the vitrine is the centerpiece, located in the middle of the object of exposition as a hovering installation. So it offers the option to the guest, to become a part of it inside.
If the guest climbs up the ladder to the upper platform, he finds options to store his luggage, as well as a barbecue and a sink. Stepping into the upper glass cube, he's situated in the bedroom. The bed hovers over the glowing floor on a tube installation. Opposite, a door leads out to the "Chill Area" and a hatch into the lower glas cube. Down there, a toilet and a sink are attached to another tube installation in the middle of the room. Hanging down from the ceiling, it appears to be an extension of the tubes above. A starry sky is simulated by LEDs. Shower jets are installed between those, turning the whole room into a single shower cubicle. Because of the glassy floor elements, it feels like standing on the dirt covered ground of the industrial hall.
In this way, the guests have at all times the impression that they are situated in the turbine hall, instead of being in an isolated room. But they are still surrounded by a protective climate envelope. If the visitor is receptive to experiencing that special way of accommodation and is ready to take the plunge, he has the opportunity to assimilate his surrounding and its history in a complete new manner. They exhibit themselves and become a part of the installation and the papermill.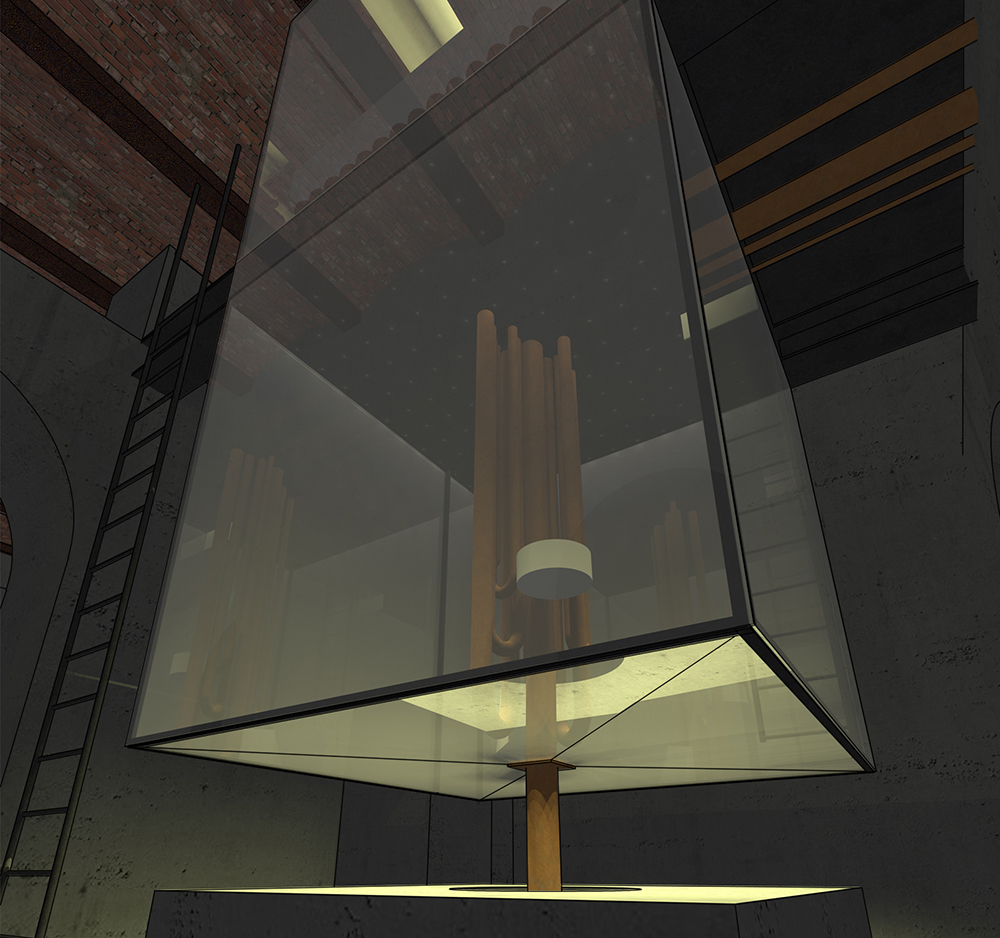 supervised by Prof. J. Stief and Ass. Andrea Raedisch in the subject "Basics of Designing",
Main studies project, Interior Architecture, Burg Giebichenstein University of Art and Design Halle, 2012

---